2020 has been a challenging year for everyone, and SSU has had to make many changes quickly.  We would like to recognize our amazing Workstation Support Services team for all they have done to make working, teaching and learning remotely a possibility for our students, staff and faculty.
Workstation Support Services consists of the Help Desk and Geo Team.  They are IT's front line, providing services and support directly to every student, faculty, and staff at SSU. While this was predominantly done through an in-person Help Desk and 1 on 1 consultations prior to COVID-19, the WSS team has shifted their approach to a remote framework quickly and effectively.
The IT Help Desk transitioned to a drop-in Zoom session available to everyone in the SSU community.  IT Help Desk phone calls are also routed through to the Zoom session to ensure there's always someone immediately available to assist the user.
There's been minimal impact to the quality of service we have provided.  Faculty and staff have been given MFA, VPN, and RDP to meet security requirements while empowering them to do work from their off-campus workspaces.  WSS has helped to enable soft phones that allow campus VoIP phones to ring on employee's workstations and cell phones alike.
A core group of WSS staff volunteered to maintain an on campus presence to address the in-person requirements of providing IT support that is otherwise impossible to do remotely.  This includes distributing computers and peripherals, configuring labs and classrooms for both in-person and virtual instruction, and relocating the equipment in a primary instructional hall in advance of its renovation.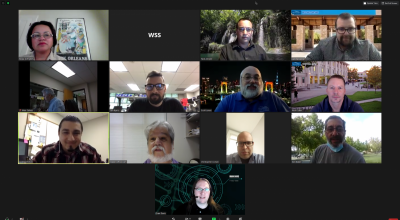 Nick Arnold, Help Desk Lead
Ken Baker
Andres Chavez
Chris Corwin
Jon Byers
Moe Calvez
Paul Cotter
Oran Davis
Michael Hazen
Scott Lance, Shop Coordinator
Jan Reinacher
Rosie Schramm