This page links to Siteimprove Tutorials, widgets that guide you through pages in Siteimprove step by step.  Before following the tutorial links, login to your Siteimprove account with your Seawolf ID.
Once you have your account and group membership established, you will be able to see reports for your site via Siteimprove's Dashboards. 
Note: If you don't yet have an account or group membership on Siteimprove, see our FAQ "Siteimprove - How do I gain access for my SSU website?"
The default is the DCI Dashboard.  This includes scores for Digital Certainty Index (DCI), Quality Assurance, Accessibility and SEO.  The DCI score combines the scores for QA, Accessibility and SEO. Each of those links to an overview report for that area.
Because SSU is required to make all our public-facing sites accessible by meeting WCAG 2 A and AA standards, website editors should focus on the accessibility reports.  
Second priority for SSU web editors should be the Quality Assurance section. QA reports will help you identify pages with misspellings, broken links, links to unsafe domains, and other issues affecting the quality and usability of your site.
For a full list of FAQs, guides and user community, see Siteimprove's Help Center.
Recommended Dashboards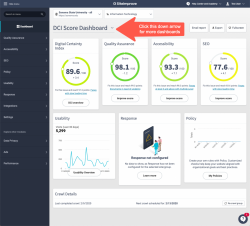 Click on the DCI Dashboard heading to expand the list of available dashboards.
Editor Dashboard (Accessibility) includes information helpful to website content editors about a specific site:

Overall progress bar
List of WCAG A and AA issues to fix.  These link to Issue pages that explain the issue and list/link to pages with that issue.
Accessibility-test PDFs

Accessibility Report is similar to the Editor Dashboard, but includes all the sites groups the user is a member of.
Editor Dashboard (QA) shows information about Broken links, misspellings, words to review, and links to issues to correct.  It also includes a Priority Pages list, that prioritizes issues to fix based on the number of times people have viewed that page or document.