Mac OS has a built in command that can be used to make a WebDAV connection to web.sonoma.edu.
Connecting to the Web Server
Navigate to the Finder by clicking on the Desktop.
Select Go > Connect to Server... from the Menu Bar at the top of the screen.

In the Server Address field, enter your WebDAV URL.

The WebDAV URL will be in this format:
https://dav.sonoma.edu/<folderpath>

Click Connect.
A dialog box titled "WebDAV File System Authentication" will appear. In the User Name field, type your Seawolf username.
In the Password field, type your account password.
Click OK.
If the connection is successful, a window such as the following will display.
If not, see troubleshooting ;below.
If this is a new site, there may not beany files in your folder. Also, an icon will appear on the desktop representing the connection.
Using Your Web Server Connection
You can copy files to and from your connection folder as you would any other folder on your hard drive, diskette, or file server.
To upload files to the web server, drag them and any supporting folders to the newly created connection folder.
To download files from the web server, double-click on the connection icon on the desktop. Drag the file or folder you want to download to your desktop, hard drive, or folder where you'd like to work on it.
Accessing on Public Computers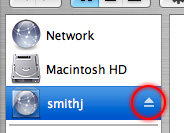 If you use a lab or other public computer, be careful about saved connections. The connection to the web server you have established may be saved on the computer even after you have left it. To disconnect from the server and clear the connection from the computer, open a Finder window, then look for the Web server icon in the left side of the Finder window. Click the eject button next to it as shown in the image to the right.
Troubleshooting
There are two common problems that may occur.
Incorrect URL or Network Problem
If you receive this error message, please go back to Step 3 and re-check the address you entered for your website. If you are still having problems, check your connection to the internet.

Incorrect Username/Password or No Privileges
If you receive this error message, please go back to Step 4 and re-check your username and password.

If you still can't connect, it may be that your account does not have privileges to access that site. Contact the Web Office for assistance.