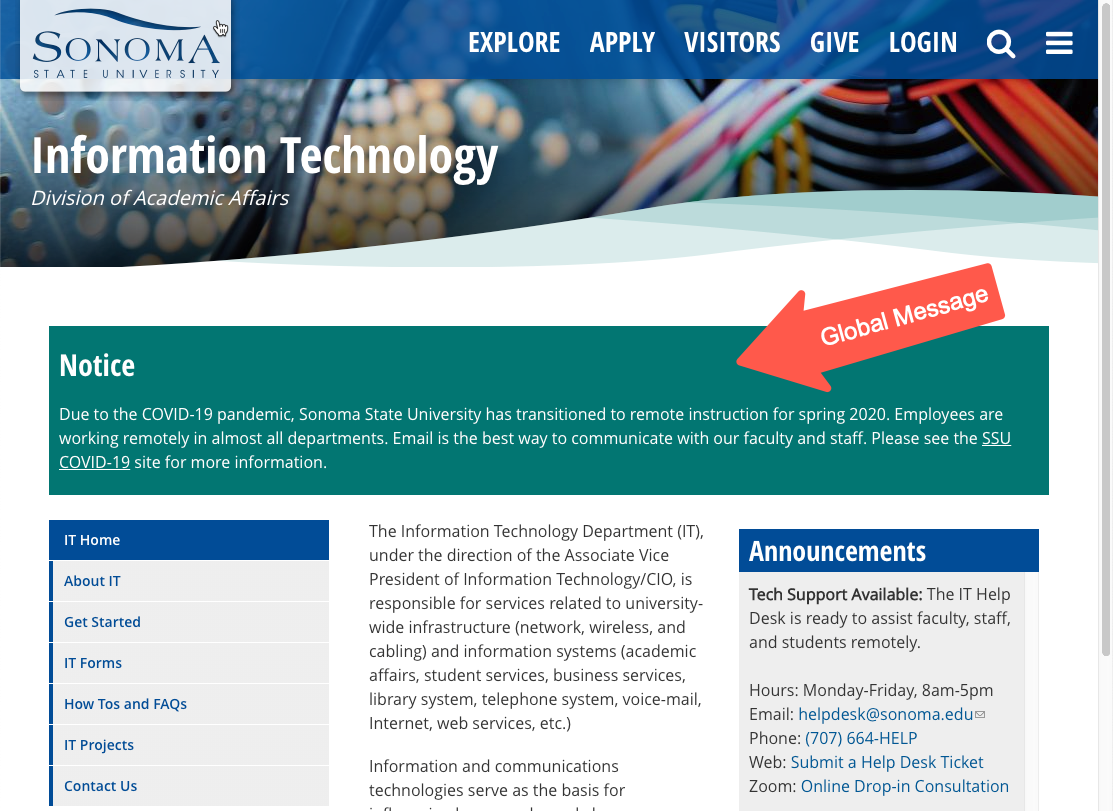 Global Message is a content type that posts a brief message in the form of a block above the Content region on almost every page of your SSU Drupal site.
Please Note: Global Message is a new content type.  It has not yet been added to all SSU Drupal sites.  The Web Office is currently working on this, and should be complete by April 10. 
Global Messages are good to use when:
There is a campus emergency such as pandemic, fires or wide-spread electrical outages.
Your Department has a sudden change of services that is important for all visitors to know.
You want to communicate an important impending change.
Adding a Global Message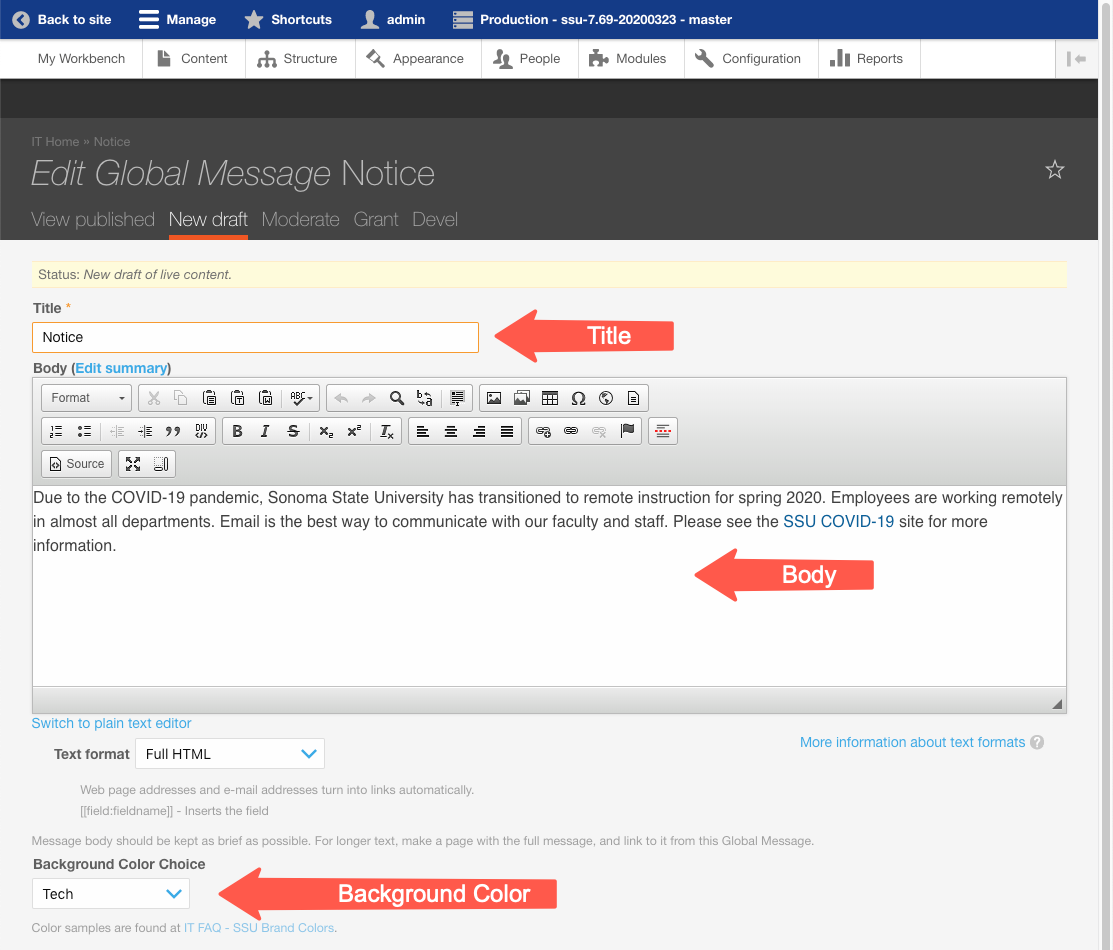 To create a new Global Message, go to 
Manage > Content > Add Content > Global Message.

OR, you can edit the existing Global Message by going to 
Manage > Content > filter by Type: Global Message > Click Notice > New Draft.
The Global Message requires:

Title - keep it short.
Body - keep it short.  If you need more than 2 sentences, make some other page with the full content, then link to that page in the body of the GM Body.
Background Color - choose one of SSU's brand colors.  If you don't choose a color, the text will be black and the background will be white.

Save and Publish.
Only one Global Message will be displayed on the site.  If you have 2 or more Global Messages in your Content List, Drupal will display the message that is published and posted most recently.
Removing a Global Message from Display
To remove all Global Messages from display go to
Manage > Content > filter by Type: Global Message > Apply.
In the resulting content list, check the box next to each Global Message.
Pull down the Operations menu, select Unpublish and click Apply.
Tips for Tracking and Reusing Global Messages
Like other content types, each Global Message can be edited, and has a revision history available by clicking the Moderate tab.
The same Global Message node could be reused, edited, published and unpublished as needed.  Department Content Leads can use the revision history to track changes to the message over time.
Multiple Global Message could be created for different types of communications and situations, especially those that are recurring.  For example:
If your department has a seasonal change of service hours.
If there is recurring and important deadline for a scholarship, grant, application or similar program or service.
If your department wants to welcome back all students and remind them to do something.
These multiple Global Messages can exist simultaneously in your site's Content List, but only the most recently posted, published item will be displayed.
Pages Where the Global Message is Not Displayed
The Global Message is not displayed on the following pages.
/user
/user/*
/users/*
/ssu-search
/ssu-search/*
If there are other pages on your site that should omit the Global Message, please contact the IT Web Office web.support@sonoma.edu. Please include the URLs of the pages where the message should not be displayed.